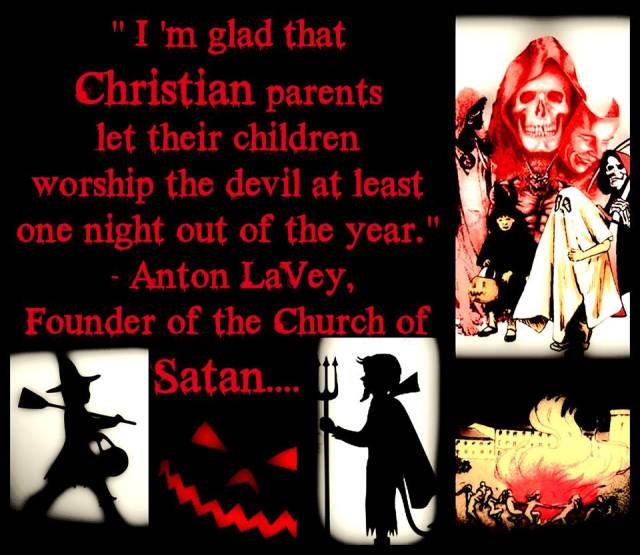 HEADS UP: Anton LaVey, founder of the neo-nazi Church of Satan, stated on record that his 'political philosophy' was based on the 'Objectivist' ideas of neoliberal sociopath AYN RAND.
Also see: Jack Parsons, L. Ron Hubbard, Anton LaVey and the Nazi Connection
-----
Halloween sex and violence- Delusions, Dissociation, and Amnesia
Halloween originates from an ancient tradition of
satanic ritual sacrifice. Keep your cats indoors.
"All you have to do is google 'Halloween' and any kind of rape, murder or bizarre crime and you'll find real life horror stories that have occurred on Halloween....The common denominators in non-cult Halloween violence cases are: paranoid delusions leading to violence, dissociation, and amnesia. "
by Richard Evans
(henrymakow.com)
Before the Romans,
a mysterious priesthood of black magicians called Druids ruled Gaul and Britain through terror. They had people believing that the spirits of the dead could cross into this world for three days between Autumnal Equinox and Winter Solstice. The time was called 'Sow-een' (spelled Samhain in English).
According to Roman sources such as Julius Caesar's
The Gallic Wars
, the Druid priesthood demanded every household give up a family member for sacrifice, or be cursed. Every family that survived in Druid territory had to betray a family member every year. That's governance through extreme psychological warfare. Even the Romans found this so repugnant that they exterminated the Druid priesthood to extinction, burning them in the same style they'd burned their victim in mass sacrificial bonfires.
The media ridicules anyone who warns of Satanic activities during the Halloween season. You'll see a plethora of articles in mainstream outlets like
"Ritual Cat Sacrifices a Halloween Myth, Experts Say".
Don't believe them. More cats disappear between August and Halloween than the rest of the year. In fact, most animal shelters suspend adoption of black cats two weeks before Halloween. In the 1990's, newspapers printed photos of cats cut in half or eviscerated on makeshift altars in parks or abandoned houses.
Since 1994, media and law enforcement decided not to report any pet abduction/mutilation as 'ritualistic' and never, ever, ever said 'cult' or 'Satanic'. I talked informally with a police detective who said they still "see it all the time".
"Cats, especially black ones, may be the target of pranksters. Black cat owners are advised to keep their cats safely indoors during the Halloween season." Halloween Tips From The Humane Society
More cats disappear between August and Halloween than the rest of the year. In fact,
most animal shelter organizations suspend
adoption of black cats two weeks before Halloween.
Read more...